Knowsley Safari Park which is located in Merseyside, England is a safari park and tourist attraction area. Knowsley Safari Park is a member of the British and Irish Association of Zoos and Aquariums (BIAZA) and also has the membership of the European Association of Zoos and Aquaria (EAZA). Knowsley safari park contributes to studies and research through a lineup with conservation projects and its links with few main universities like Liverpool, Chester, and Manchester. Knowsley Safari Park is currently home to over 750 fascinating animals
As a new modification, tigers are now displayed in enclosures within the reserve, and a bypass around the baboons was built for visitors who are worried about damage to their cars.
The park has hosted several sporting events such as the Olympic torch relay, Tour of Britain cycling event, and hosted Stage Three of the 2013 Tour. Knowsley Safari Park's online learning resources for teachers have been developed by the Learning & Discovery team to help students and the teachers to get the most out of your Safari school trip.

After months with Corona, Now Knowsley Safari Park reopened for the public. But they may have taken some vital changes and introduced a number of safety measures to keep guests safe.
Opening hours (This will be subject to change due to special events)
Monday to Friday – 10.00 AM to 5.00 PM
Saturday and Sunday- 10.00 AM to 6.00 PM
Safari options at Knowsley Safari Park
Safari Drive – You can drive your vehicle through the Knowsley Safari Park. This is the longest safari drive in the UK and visitors can enjoy Impressive 5-mile wild.
Safari walk (foot safari) – Visitors can explore a huge part of the safari on foot. Foot safari by Knowsley Safari Park offers amazing things like sea lion displays, meerkats, giraffe, tiger trail, and many more.
Foods – OASIS Restaurant, Outdoor grill, and Coffee house available to take the hassle out of feeding the family. All dishes are all homemade and include a 4-hour slow-roasted chili con carne, penne bolognese with rosemary focaccia, and even fish and chips. And extended choices for children.
Amazing clicks in Knowsley Safari Park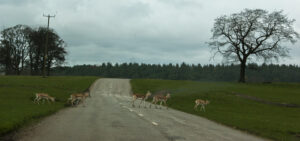 History of Knowsley Safari Park
The park was opened in July 1971 by Edward Stanley. Initially, the road through the park was 3.5 miles (5.6 km), with visitors driving past lions, cheetahs, monkeys, giraffes, zebras, elephants, and various antelope. Eventually increasing the rush in this route, an additional 1.5 miles (2.4 km) of the road was added in 1973. Then a few more animals like camels, buffalo, white rhino, and tigers were added to the park.
The Knowsley Safari Park was home to a former RAF airfield that closed after the end of World War II. This was known as No 49 SLG or RAF Knowsley Park on 13 May 1942 – Nov 1944.

Sea lions at knowsley safari park.